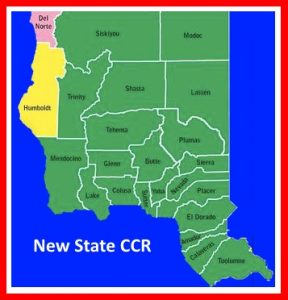 Welcome to the New State (in North California) Council of County Representatives (CCR). The CCR will come into existence as a representative body to lead the organization of a New State movement for Jefferson Movement when its Charter is Ratified by three-fourths of the 23 Counties of Northern California.  Until that time, this site is run by representatives from ratifying counties for the purpose of advocating the creation of County Committees to ratify the Charter and to model representative governance.
Here we can openly discuss, brainstorm and get questions answered including perspectives from a greater number of people. Click on the Forum menu and create an account to join the conversation and speak your mind. The participation of informed citizens is required for good governance.
We are looking for intelligent leaders who want to form New State CCR county committees. To contact committee members or find others interested in starting a committee in your county, join the Forum and request access to your county's group.